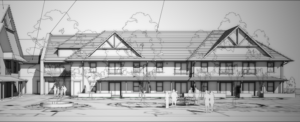 Gillespie Gardens-**New** 18 Affordable Housing Units-Seniors
Affordable Housing is units that have rent set at affordable market rent levels.  Please review this information carefully to determine if the available unit is right for you before submitting an application.  If you are interested in applying for a unit, please follow the application-Expression of Interest directions below.
Location: 75 Nine Mile Road, Beaverton Ontario. Beaverton is approximately 50 mins north of Oshawa by Car and is located in Brock Township. Beaverton has stores, a library and yacht club. Public Transit and medical services are limited in the village.
Units will be ready for occupancy approximately December 1, 2018.
1 Bedroom suite
1 Bedroom barrier-free suite
2 Bedroom barrier-free suite
It is estimated that rent will be approximately $800-$950 monthly for a 1 bedroom and $900-$1050 for a 2 bedroom. Rent amounts will be confirmed prior to lease signing.
Rent includes:  heat, water, hot water, hydro, fridge, stove and parking. Last month's rent deposit, equal to monthly rent charge is required
All units include vinyl and tile flooring, stone countertops, stainless steel appliances and large entry ways. The building has an elevator and laundry facilities, as well as common room spaces for tenants.
To be eligible, maximum gross annual family income cannot exceed  $42,000 per year for a one bedroom or $47,000 for a two bedroom. Household asset limits of $50,000 (single person) and $75,000 (couple) also apply. Applicants must be 65 years of age or older to qualify.
Once applicants have been selected, an open house will occur to view units.
Expression of Interest Application can be accessed here.  Be sure to include:
Status in Canada (examples: Canadian birth certificate, Canadian citizenship card, valid Canadian passport, Permanent Resident card)
Income tax assessment from Revenue Canada for 2017 or if your income has changed since 2017, please also include copies of your current income statements
Expression of interested applications can be sent to Lori Barber, Housing Services Division, 605 Rossland Rd. East, P.O. Box 623, Whitby, ON L1N 6A3 or by email to lori.barber@durham.ca.